The Commons Symposium is scheduled to take place on February 9-10, 2024. We very much look forward to welcoming you to the City of Coral Gables and the University of Miami.
SESSION INFORMATION
In preparation for the event, please plan on submitting a draft of your (roughly) 3,000 word papers by January 26, 2024, so that we may circulate them to the other symposium participants. In terms of the subject matter of the papers, the theme of the conference is open-ended, so you should feel free to share anything you're currently working on right now. As you put together your piece, be aware that the scholarly profile of the symposium participants is diverse, with individuals engaging the methodologies and practices of many disciplines across the humanities and the sciences, including but not limited to Writing Studies, Creative Writing, American Literature, History, Philosophy, and the Medical Humanities, and that to get the most out of this symposium you should aim for a paper that is accessible to scholars beyond your field of study.
SCHEDULE
Click here for access to the symposium schedule.
LOCATION
The symposium will be held at Lakeside Pavilion, which is located at the University of Miami Coral Gables campus.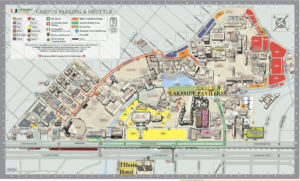 HOTEL INFORMATION
To help you organize your travel, we have secured a discounted group rate for three nights at the THEsis Hotel (check-in on Thursday, February 8, 2024 and check-out on Sunday, February 11, 2024 at a rate of $239 + 13% tax), which is located across the street from the university campus.
Use this link to book the hotel room.
You have until January 9, 2024 to make the reservation at the discounted rate.
EVERGLADES ECOTOUR
Stay tuned for more information regarding the optional Everglades Ecotour, which will take place on Saturday, February 11, 2023 after the symposium.